Quick Comparison Table
| | AMS | AMS | Zebco | Muzzy |
| --- | --- | --- | --- | --- |
| | | | | |
| Price | $ | $ | $ | $ |
| Weight | 1 pounds | 0.2 pounds | 1.4 pounds | 1.97 pounds |
| Dimensions | 14.5 x 11.2 x 3.5 inches | 15 x 11 x 4 inches | 16.2 x 6.2 x 4.8 inches | 14 x 10 x 8 inches |
| Line Length | 25 yards | 25 yards | 30 yards | 150 yards |
| Warranty | not specified | not specified | not specified | not specified |
| Amazon FREE Shipping | | | | |
| | | | | |
How to Choose the Best Bowfishing Reel on the Market?
Bowfishing is an excellent pastime for the avid outdoors enthusiast. It requires patience, skill, and a bit of luck. However, your bowfishing reel may make all the difference when it comes to getting that big fish, or going home empty-handed.
We've created this buying guide to help you on your way to a more prosperous fishing season. We've included reviews for four top-rated bowfishing reel kits on Amazon.com, as well as information that can help you make your final purchasing decision.
Activity Type
Unlike big game hunting, bowfishing requires a particular type of bow and reel. Your draw weight, bow, reel, and line, can all play a part – depending on the fish you're looking to catch, and the average weight of those fish.
An average setup for a bowfishing activity looks like a standard bow with a 35-pound draw weight, a good arrow, and a drum, spinning or retriever reel.
Safety
A bowfishing reel is not dangerous. However, bowfishing itself can be if you lack experience or you're not vigilant around the water.
Make sure to:
Wear a life jacket if you're in the water.
Never use perished, worn, or broken gear.
Ask for help if you need it.
Avoid fishing alone.
Let someone know where you are at all times, and when you'll be home.
Wear sunscreen.
Wear polarized sunglasses.
Take a change of clothing with you.
Make sure your mobile phone or satellite phone is fully charged.
Ensure your boat (if applicable) has all the recommended safety equipment.
Features
The features of each bowfishing reel can vary, depending on the model, brand, or manufacturer. The features will also differ based on whether you've opted for a spinning, retriever or drum reel. The drum reel is basic, simple, and allows you to retrieve your catch by pulling it in with one hand over the other. These are perfect for beginners.
Spinning reels require you to be vigilant as they work at quite high speeds. The arrow speed is faster, the line comes off quicker, and you often have a better chance of making a quick follow-up shot as well.
A retriever reel, also known as a bottle reel, is considered one of the safest options, yet it still works quickly. It offers reduced line drag, brakes to apply once the line is at the point you want it, and the manual brake also acts as a drag if you're fighting fish. However, the line weight is heavier, so retrieval is slower.
Efficiency
How full your fish bucket is can be put down to a few factors. Firstly, you need to have a quality line, reel, and bow. Secondly, you need to have a reel that's suitable for your requirements. If you're new to bowfishing, a drum reel is a good option. For the more experienced fisher, a retriever or spinner reel will help you get that decent catch.
Maintenance
Your reel can be exposed to a lot of elements when out at sea, or even at a river or lake. As such, it's a good idea to keep up-to-date with maintenance to ensure the longevity of your reel.
Upkeep tips include:
Oiling any metal components.
Grease the gears.
Clean the inside of the bottle to remove dirt, seaweed, and other grime.
Ensure the line is in good condition.
Check for any cracks or imperfections that could impact your fishing experience.
Budget
As any fisher knows, getting all your gear together for a fishing expedition can be a costly exercise. However, if you're looking to get the best deal, head to Amazon. You can purchase many top-rated bowfishing reels for between $20 and $331.
4 Top Rated Bowfishing Reel Reviews
1
AMS
Pros
You can choose either a left or right-handed reel.
It has a more extended handle than the standard handle length for increased leverage.
It has a high-visibility Dacron line.
It's very well made.
The supplied line is of good quality.
Cons
It's quite expensive in comparison to other models for sale.
It requires a little more reeling than other reels on the market.
It doesn't come with an arrow rest.
Weight: 16 ounces.
Dimensions: 14.5 x 11.2 x 3.5 inches.
Line Length: 25 yards.
Q
What is the gear ratio?
A
4.3:1
---
Q
How far apart are the mounting holes?
A
1 inch.
---
Q
What is the line weight?
A
250 pounds.
While it's a little high on the price side, this AMS bowfishing reel ticks all the boxes for both professional and novice bowfishers. It offers 25 yards of heavy line, the option of a left or right-handed reel, and it even has a longer handle for better leverage. It's built well, can handle many different fish weights, and will be a welcomed addition to any fishing kit.
2
AMS 610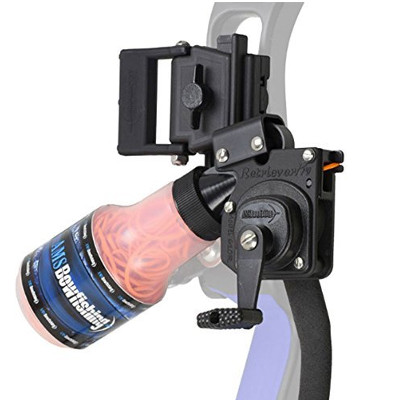 Pros
It's affordable.
You can choose from left or right-handed reels.
Operating with just one button is easy.
You get 17 inches of line with just one turn of the handle.
It's easy to install and adjust.
It offers excellent line control.
It has no drag.
It has a built-in arrow holder.
It's made in the USA – an important factor for some people.
Cons
It does have drag, even though the listing says it doesn't.
It has a short range.
The line tangles easily.
Weight: 3.2 ounces.
Line Length: 25 yards.
Q
How heavy is the line?
A
200 pounds.
---
Q
What type of line comes with it?
A
Hi-Vis Orange 200# Braided Dacron Line.
---
Q
Does it come with arrows?
A
No, only a reel.
For the price, this AMS bowfishing reel offers good bang for your buck. You get the best deal when you buy online, and it even comes with an arrow rest whereas not all bowfishing reels for sale do. It's easy to use, well made, offers good line control and is suitable for both professionals and novices. It's easily one of the best bowfishing reels for the money.
3
Zebco 5001539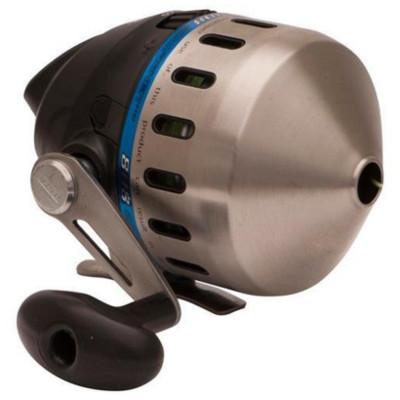 Pros
It's durable.
It's well made.
It's very affordable.
It's very lightweight.
Cons
The line can tangle and snag easily.
Weight: 1.4 pounds.
Dimensions: 16.2 x 6.2 x 4.8 inches.
Line Length: 30 yards.
Q
Can you choose from left or right-handed?
A
Just left-handed.
---
Q
What is it made of?
A
Stainless steel.
---
Q
What is the line weight?
A
200 pounds.
If you're looking for something more durable than standard, this Zebco reel is a good option for you. Rather than being manufactured from plastic, this reel is made of stainless steel to be more durable for the user.
It comes with heavy line, is very affordable, and is even very lightweight as well. The line can tangle easily which can put some people off, but all in all, it represents good value for money.
4
Muzzy 1069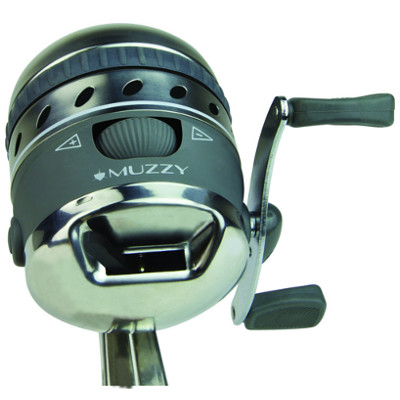 Pros
It has an integrated mounting system.
It has a switch activation system so you can lock it into shooting mode.
It has a decent amount of heavy-weight line on it.
It's made in the USA – an important factor for some people.
It's reversible for a left or right-handed retrieval.
It costs very little to own.
Cons
It takes a long time to change reels.
Weight: 1.97 pounds.
Dimensions: 14 x 10 x 8 inches.
Line Length: 150 yards.
Q
What is the line weight?
A
150 pounds.
---
Q
Does it come pre-spooled?
A
Yes.
Muzzy has long been known as a reliable manufacturer of fishing reels, and this reel is an excellent example of their quality products. It's priced well on the market, it features top-quality technology for a more comfortable fishing experience, and it's even reversible for a left or right-hander.
While the installation and removal process is time-consuming, it's a small price to pay for what is effectively one of the best bowfishing reels for the money.
Where to Buy Bowfishing Reel?
Whether you buy online or instore, you're sure to be on the lookout for a healthy balance between quality and value. Bargain hunting can be a time-consuming process in physical stores, but it takes just seconds on Amazon.com and similar platforms. Compare and review different products from different manufacturers, and you're sure to find the bowfishing reel that ticks all the boxes.
Leading Bowfishing Reel Brands and Manufacturers
Related Guides