Quick Comparison Table
How to Choose the Best Compound Bows on the Market
If you are planning to buy a compound bow, there are specific factors you need to take into consideration for you to have a satisfying shopping experience.
Draw Length
Keep in mind that compound bows have different draw lengths. A draw length is defined as the distance from the bow string and grip at rest. You need to choose a bow that suits you. In order to do this, you have to determine your draw length. When you go to an archery store, they can help you measure it precisely. However, if you don't have time to do it, you may measure it on your own.
First thing to do is measure your wingspan by standing up straight while your both hands and arms are extended to your sides. In a straight line, ask someone to measure the distance between the tip of your one middle finger to the other middle finger.
Once you get the measurement, divide the number by 2.5. This is how easy you can determine your draw length. To be certain, you can ask an archery pro to help you measure it again with precision and accuracy. The goal here is to find the right compound bow for you, something that is not too short or not too long.
Draw Weight
Compound bow enthusiasts should be aware of the significant role of draw weight in every successful shot. Draw weight is known as the amount of effort or work an archer needs to exert in order to get the bow to full draw. In choosing a bow, always pick the one that you can comfortably and smoothly pull back.
In this connection, you have to determine how much you can draw. Fortunately, today there are many high quality compound bows with adjustable draw weights and draw lengths. This means it will be easier for you to customize both based on your capability.
Eye Dominance
It is a fact that some people are right-handed while others are left-handed. In this connection, some archers prefer to shoot left-handed. There are those who shoot with their right hand. This happens because every person has a dominant eye, which means one eye has more visual input compared to the other.
For a successful shot, you have to determine which eye is more dominant. To do this, you have to place both your hands at arm's length. Then form a triangular opening by pressing your forefingers and thumbs together. Look through the triangle and keep your eyes open. Center the triangle on something, like a medium-sized hole or doorknob.
The next thing to do is to close your one eye then followed by the other. Notice which eye keeps the hole or doorknob in the center of the triangle because that is your dominant eye. If your right eye is dominant, you should shoot right-handed. On the other hand, shoot left-handed if your left eye is the dominant one.
The Overall Weight of the Bow
Another thing to consider is the mass weight of the compound bow. It would be easier to carry with you lighter bows. However, you need to know that lighter bows have the tendency to be noisy because they vibrate more compared to the heavy ones. The downside of a heavy compound bow is that it is quite tiresome to carry around for lengthy hours.
Axle LengthOne of the most important technical considerations you need to take when buying a compound bow is the axle length, which is the overall length of the bow. If you want a bow that is easy to maneuver, opt for the shorter bows.
However, some archers and hunters find it hard to shoot them. If you are a beginner, you may need to practice more. Meanwhile, if you are an amateur in using a compound bow, pick the one with longer axle lengths.
Reviews of 5 Top Rated Compound Bows
1
SAS Rage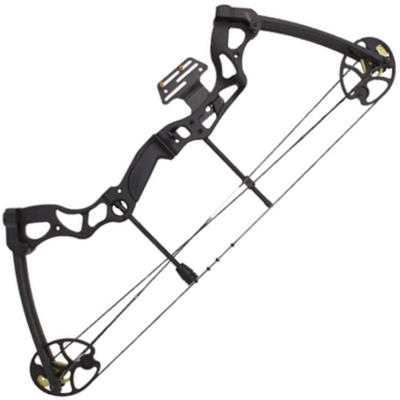 Pros:
As mentioned previously, the sleek design and smooth draw makes it fantastic for beginners. If you have only picked up a bow a couple of times before, the SAS Rage Compound Bow is a good piece of equipment to get you used to the action. Furthermore, it is also good for improving aim because it is stripped back to basics.
The adjustable draw also makes for a great feature; with the ability to vary the weight from 55 lbs right up to 70 lbs, it allows for different scenarios and different length of targets. If you move further back from your target, simply increase the weight and you will instantly be able to tell the difference.
In addition to this, the product is affordable which makes it less of a risky investment for those who are considering archery but aren't quite sure. In just a moment, we will go through the various purchasing options but at around $170, this option beats off much of the competition.
Finally, where some bows may struggle to take down small prey, this bow uses all the sturdiness and the power it has been gifted with and makes it easy. With some practice at drawing heavy weights, you will also have a shot at medium-sized pray.
Cons
One of the biggest drawbacks of choosing this product is that the manufacturer isn't as well-known as some of the other products on the market. When we buy products, we tend to look for companies that have a bit of history and have a presence in the market but Southland Archery Supply is a smaller company. As a result, some buyers have noted that customer service can be a little tricky at times.
Additionally, others have noted how sighting can sometimes be a problem after long periods of archery. As the bow is quite heavy at nearly four and a half pounds, this can play with the arms and make long sessions a little tricky. However, this can be countered with a little break after short bursts of target practice.
1 x Compound Bow
1 x Manual
Q
What are the key dimensions?
A
It has a weight of 4.4 lbs and a draw weight of 55-70 lbs. In terms of draw length, this bow can be altered between 26" and 30" with an axle to axle of 35". Let off is 70% and a 30" carbon and aluminium arrow is the recommended choice.
---
Q
Is it left- or right-handed?
A
This bow is for right-handed users.
---
Q
Does it come with accessories?
A
When buying from some locations, you will have an option to include a sight, rest, etc. Otherwise, it will come as standard with no accessories. Also, no arrows are included.
Ultimately, this is a fantastic, solid, secure bow for people of all skill levels. If you're a beginner, you will be able to get used to drawing back and firing accurate shots. If you're an expert, this can be a great practice bow whilst saving something more expensive for competitions or special events!
In terms of pricing, there are a couple of options available but it seems as though the best option is through Amazon as you will see below.
---
When buying a bow, regardless of whether it's the first or tenth time, there are some important factors to consider. Of course, performance is one of the biggest as even a professional would struggle with a poor-quality bow. However, comfort also plays an important role because you need to be in control when aiming in order to see the best results.
Nowadays, we have plenty of options on the market and we review the very best so you can compare between two or more of your favorite choices. Today, we have the Southland Archery Supply (SAS) Compound Bow. Let's break it down and look in a little more detail.
If you are into archery, whether as a professional or an amateur, one of the primary things you need to possess is a top rated compound bow. The problem is, there are countless brands and models of compound bows on the market, which makes it hard for people to pick the best choice among the rest. Good thing you have found this buying guide.
Compound bows for sale are available with various features, accessories and in different prices. We have compiled a list of some of the best compound bows you can find online.
Performance:
It is important to note right from the start that this bow is aimed at novices, however that doesn't mean that you should click away instantly. With dual eccentric cams, the user is able to stop the draw whenever comfortable which helps to create a clean and accurate shot.
By using a simple pin and hole system, the user can adjust it to wherever comfortable and once you find the right weight for you, the results can be incredible.
Furthermore, the aluminium cam system also promotes accurate shots whether you are an expert or a beginner. This device also boasts an adjustable weight which works in five pound increments. </span><span lang="EN-US">When put on the maximum power setting, it can achieve around 70 lbs which is perfect for simple target practice as well as small game hunting.
With 70 lbs sitting where it matters, maximum speeds can reach 270 feet per second. However, this can only really be achieved if you can draw 70 lbs multiple times in a short period.
Design:
The design of a bow is also an important factor to consider and this one is slightly heavier than many others. Some may see this as a disadvantage, but others will enjoy the sturdy, long-lasting frame that offers durability in abundance. Even if you misfire regularly, the body of the bow is sturdy enough to brush it off and go again.
Elsewhere, the so-called 'limbs' are parallel to one another and made from fiberglass. Overall, the design is smooth and the materials used make it perfect for a beginner. With durability in tow, beginners will get the chance to fire solid shots whilst also coping with the inevitable misfire every now and then.
Price
Amazon – $169.99  (Basic), $219.99 (w/ accessories), $289.99 (Pro Package)
Overstock – $199.99 (Basic)
Southland Archery – $199.99 (Basic)
Along with a cheaper price, you will also be safe in the knowledge that you are ordering from one of the most popular sites on the internet. If something does happen to go wrong and you can't contact customer support, Amazon should provide some help.
2
Diamond Archery Prism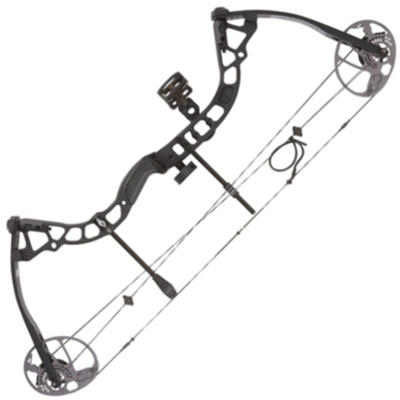 3
Bowtech Carbon Knight
4
Bear Archery Cruzer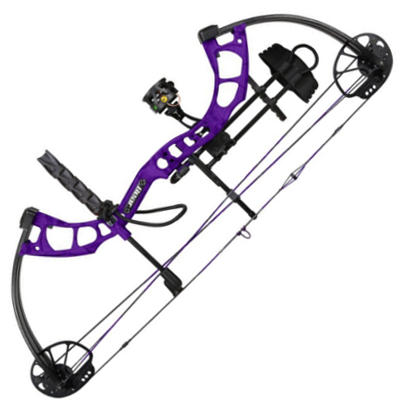 5
PSE Madness 34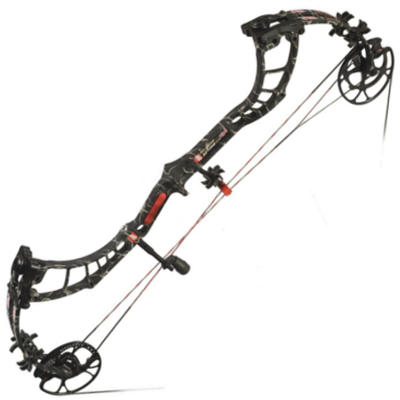 Reviews of Top 7 Rated Compound Bow Packages
1
Infinite Edge Pro
Related Guides