Compound bows for hunting are specifically manufactured to showcase precise accuracy, be quiet and vibration free, durable, highly adjustable, and extremely maneuverable. However, the market comes with many models and brands of compound bows.
Quick Comparison Table
| | Martin Archery | Bear Archery | Bowtech | Siege | Leader |
| --- | --- | --- | --- | --- | --- |
| | | | | | |
| Price | $ | $ | $ | $$ | $$ |
| Weight | 3.75 pounds | 3.8 pounds | 3.2 pounds | 4 pounds | 6.9 pounds |
| IBO Speed | Up to 320 FPS | 345 FPS | 335 FPS | 206 FPS | 310 FPS |
| Warranty | not specified | Full manufacturers warranty | not specified | 3-year manufacture warranty | 1-year warranty |
| Amazon FREE Shipping | | | | | |
| | | | | | |
How to Choose the Best Hunting Compound Bows on the Market?
Needless to say, there are buyers who find it hard to choose which one is the best. If you are one of them, this comprehensive buying guide can help you select the most suitable compound bow for you. It has reviews of some of the top rated hunting compound bows available online.
Choosing the Best Hunting Compound Bows
To be a wise shopper, never forget to consider different factors when you buy a compound bow for hunting. Compound bows for sale have their specific features and added accessories to entice consumers to make a purchase. Below is a list:
Compound Bow Type
Compound bows are available in various types. They can be classified based on the cam system they have. Cam system is also known as the bow eccentric. The most popular types are Single Cam, Hybrid Cam, Twin Cam, and Binary Cam.
Each of this cam system has its own pros and cons. Single cam, for instance, is quiet and easy to use. However, it is harder to tune compared to others. Meanwhile, the compound bow with Hybrid Cams is easy to use and maintain.
Its downside is reduced nock travel. On the other hand, a hunting compound bow with Twin Cam can guarantee you of high velocity and accuracy.
However, due to its complex design you may need to frequently tune and maintain the cam system. Moreover, Binary Cam is known for its extremely high velocity. The only complain it gets is the need to tune and maintain it more often.
Arrow Speed
If you are into hunting, whether as a hobby or a profession, you need to have a compound bow with excellent speed. According to experts, a compound bow that is powerful and large usually comes with higher feet per second or FPS.
If you want to own a hunting compound bow with impressive speed, choose the one with high FPS. To be more specific, buy a bow with at least 300 FPS.
Proportions and Strength
When buying a hunting compound bow, do not just focus on the technical factors. This means you have to consider your body as well. You need to opt for a compound bow that matches the proportions and strength of your body.
It is good to choose a bow with industrial-strength features and accessories, but you also have to consider if your body is able to carry and use the bow properly. Sometimes, you need to keep it simple. In other words, pick a bow that suits you.
Draw Length
Do not be too excited to buy a hunting compound bow that you forget the technical factors to consider. One of them is the draw length, known as the distance between the bowstring and the grip when the archer is at full draw.
You need to opt for enough draw length in order to achieve excellent accuracy and speed. Luckily, today there are hunting compound bows that can be easily adjusted in terms of their draw length.
Draw Weight
The amount of effort or work you need to exert to perform a full draw is known as the draw weight. If you are into hunting, make sure to choose a compound bow with a draw weight that suits you. Pick a bow you can easily draw or pull back.
The Mass Weight
If you plan to purchase a compound bow and use it for hunting, you should consider its overall weight. It would be easier and more convenient to lug around the woods if you carry a light compound bow with you.
However, it comes with a downside. Lighter bows have the tendency to be noisy. Compared to heavier ones, these bows vibrate more.
The Price
Most of the time, a high price or cost is synonymous to high quality and performance. If you are on a tight budget, however, you need to choose the one you can afford. Still, quality is an important thing to consider.
Do not purchase a compound bow just because you can afford it. Take a look at its features and accessories. The good thing is, there are brands and models that are affordably priced yet able to provide you great accuracy and speed.
Available Accessories
Before buying a compound bow for hunting, know the added accessories it comes with. Some compound bows are sold with complete accessories, while others require you to purchase the accessories separately.
5 Top Rated Hunting Compound Bows Reviews
1
Martin Archery Blade x4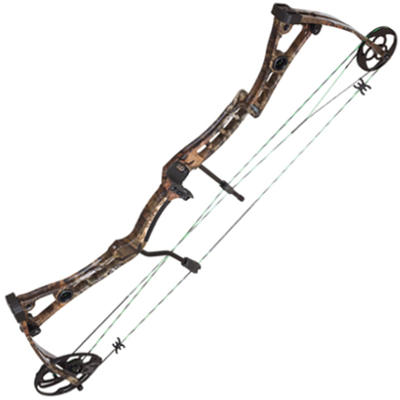 Pros
It is highly dependable and durable
Made with high quality materials
It looks great
Sleek, lightweight
Has an adjustable let off with limb stop
It is affordably priced
Cons
Some people complain that the bow lacks of advertised IBO speed
When released, there is a bit of hand shock and vibration
Fury XT cams
Silent Hunter arrow shelf
CNC machined solid aluminum riser
Dual carbon fiber STS string suppressor
Adjustable brace height and grip angle
Twin limbs
Q
What is the draw weight of the bow?
A
35 lbs to 70 lbs.
---
Q
What is the IBO Speed?
A
Up to 320 FPS.
---
Q
What is the mass weight of the bow?
A
3.75 lbs.
---
Q
What is the draw length?
A
26.0″ to 32.0″.
---
Q
Is it good for beginners?
A
Yes, the Blade X4 is good for beginners.
Often dubbed as one of the most accurate bows on the planet, the Martin Archery Blade X4 takes pride of its high quality components, dependable features and great looks. The bow is loved for its extreme adjustability. You can easily adjust the Blade X4 in terms of its draw weight and draw length.
Whenever you do an entire draw cycle, you will feel the smoothness and great performance of the bow because of its industrial-strength Fury XT Cams. If you are looking for a bow for target shooting and hunting, the Blade X4 is the one thing you need.
The twin limb system of the bow is specifically engineered with high technology and standards in order to offer excellent speed, silence and strength all at the same time. It is the union of solid reliability, cut-throat speed and optimum durability. With the features of the Blade X4, it is considered as one of the highly adjustable and feature-inclusive bows available on the market.
2
Bear Archery Arena 30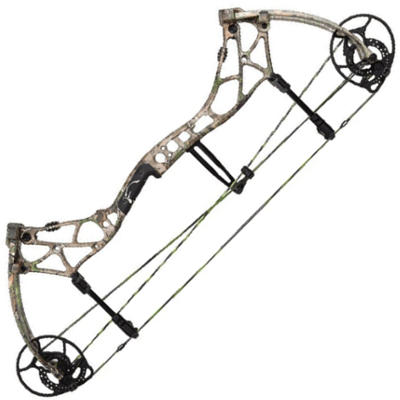 Pros
It is quiet and vibration free
Cams are highly adjustable
It is compact and lightweight
It is dependable
It is extremely maneuverable
It is simple and easy to use
Cons
It is more expensive compared to other hunting compound bows on the market
H15 Hybrid Cams
Bear Hinge Guard
HP strings and cables
Adjustable string suppressors
Removable rubber grip
Q
What is the draw weight of the bow?
A
50 lbs to 70 lbs.
---
Q
What is the IBO Speed?
A
345 FPS.
---
Q
What is the mass weight of the bow?
A
3.8 lbs.
---
Q
What is the draw length?
A
25.5 to 30 inches.
---
Q
Is it good for beginners?
A
Yes, the Bear Archery Arena 30 is good for beginners.
The moment you become aware of the features of the Bear Arena 30, you will discover why it is used by many hunters and bow enthusiasts. It is packed with features and components that are of high quality and backed by the highest standards.
Aside from its smart design, the bow offers extreme versatility to every shooter. It is designed with removable grip in order to give the archer various shooting options with greater feel. It is also created with Bi-Dimensionally adjustable string suppressors to provide you silent and shock-free shooting every time.
For a smoother draw cycle all the time, the bow is equipped with the newest series of H15 cams. On the other hand, its zero Tolerance limb pockets are helpful in reducing vibration and absorbing excess space. Meanwhile, the Bear Hinge Guard is added to lessen lateral loads, which improves accuracy and minimizes riser torque. Moreover, the Bear Arena 30 takes pride of its high quality grip. It offers high performance even in cold weather.
3
Bowtech Carbon Knight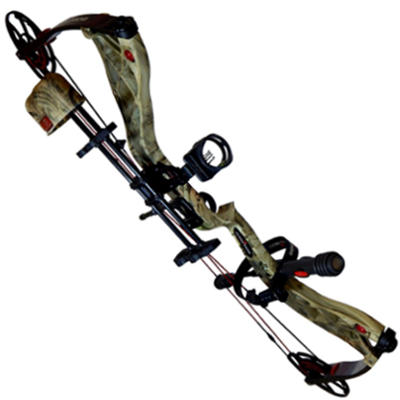 Pros
It is extremely adjustable
It is compact and lightweight
A powerful bow for hunting
It offers a smooth draw
It comes with excellent grip design
Has a great accuracy
Cons
Some hunters complain that the bow length is too short for hunting
It comes with a basic stock string
It is not the stealthiest bow available
Octane 5″ Ultra-Lite Stabilizer
Alloy Peep
BCY String Loop
Dura-Flx String Dampening Components
Comfort Wrist Sling
Octane DeadLock Lite Quiver
R.A.K. Custom 4-Pin Sight
Octane Hostage XL arrow rest
Q
What is the draw weight of the bow?
A
50 to 70 lbs.
---
Q
What is the IBO Speed?
A
335 FPS.
---
Q
What is the mass weight of the bow?
A
3.2 lbs.
---
Q
What is the draw length?
A
26.5 to 30.5 inches.
---
Q
Is it good for beginners?
A
Yes, it is good for beginners and amateur hunters.
Dubbed as one of the lightest premium bows available today, the Bowtech Carbon Knight is equipped with a new Binary Cam design. With this, it is loved for being extremely maneuverable and light. Another interesting thing about it is that it can be used right away out of the box.
On the other hand, the Bowtech Carbon Knight is designed with a high-technology Binary Cam System in order to maximize consistency and accuracy. In this connection, there are two exquisitely symmetrical cams that work together in perfect synchronization.
Moreover, the bow is known for its utmost adjustability. You can easily replace the module screw on each cam and then retighten them. Once you have adjusted the draw length, there is a need to adjust the stop post by just loosening the draw stop post screw and then slide to the proper position.
4
SAS Siege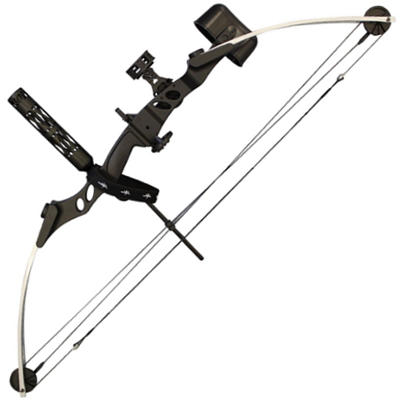 Pros
Affordably priced
The bow is highly durable
It is suitable for various types of users
It is equipped with modern back pivot limb technology
It is easy to set up
Comes with sleek and lightweight design
Cons
Some people complain that the sight and arrow rest is a bit inefficient
Peep Sight and Paper Target
Leather Mounting Sling
5″ Aluminum Stabilizer
Twister Arrow Rest
D-loop
Quiver
Carbon Arrows
3-Pin Bow Sight
Q
What is the draw weight of the bow?
A
40 to 55 lbs.
---
Q
What is the IBO Speed?
A
206 FPS.
---
Q
What is the mass weight of the bow?
A
4 lbs.
---
Q
What is the draw length?
A
29 inches.
---
Q
Is it good for beginners?
A
Yes, it is. It is highly recommended for starters and amateur hunters.
When it comes to design and features, the SAS Siege 55 won't disappoint hunting enthusiasts. The model is fully equipped with industrial-strength features for it to offer excellent accuracy, performance and speed.
The bow is perfect for amateur hunters. Thanks to its 41.5 inches axle to axle integration. On the other hand, the bow is designed with a compressed ABS limb. With this, the SAS Siege 55 has the ability to span strength, weight and balance at the same time.
Moreover, it is made with Back Pivoting Limb Pockets specifically engineered to strongly hold and protect the bow's innovative limbs. Also, it has a quality riser with various cut-outs, giving it a waffle look.
5
Leader Accessories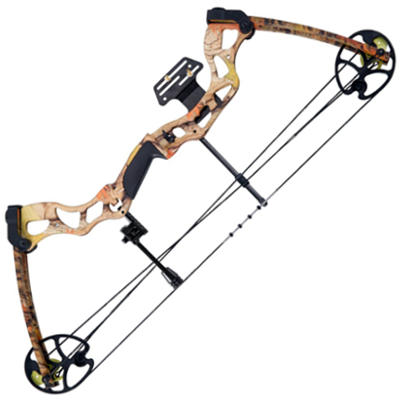 Pros:
Much like the lighter Leader Accessories model, one of the biggest benefits is the price. Coming in below $150, it is a fantastic option considering the power and speed it offers. Regardless of the industry, it is strange to see a product that can be found at the same price as the smaller and lighter version.
Also, the heavy draw will make it easy to hit targets from long distances and even medium-sized prey. The many adjustments allow the user to find a setup that is comfortable and once you find this for yourself, you will be surprised at how well you can shoot.
Cons
On the other hand, many have been left disappointed by the lack of extras that come with the product. Essentially, the bow comes bare with very little in the way of attachments which is one of the reasons why it can be found for so cheap. When you add in all the little purchases you will have to make to make the bow ready to use, it may level off at a price similar to the more expensive models on the market.
In addition to this, some customers have complained of parts falling off with no way to find a replacement. As the producer is not from the US, it can be hard in general to find replacement parts or screws that happen to come loose.
1-Year Warranty on the bow excluding string & cables.
30″ Carbon arrow and 30″ Aluminum arrow recommended for this compound bow.
Q
Can the sight be changed?
A
With the attached sight being fairly basic, it is advised that you change it early on and this is a painless process. If you want to improve your shooting, the sight will make a huge difference. Many experienced archers tend to find a sight that they like, which they carry with them to use on every bow they operate.
---
Q
Does it come assembled?
A
The bow is not fully-assembled from the packaging but the process is simple and will require some simple tools. For example, the peep sight attaches easily using an Allen key.
---
Q
Is it suitable for deer?
A
Yes, this bow will have no problems with deer, buck, and the like.
For the price, this device is a superb piece of equipment and will be by your side for years to come. In truth, you may need to buy a few attachments at the start to get it up to speed but you will be more than willing to do so because of its sleek design, accuracy, and strength. Whether you are looking for something to shoot at targets or at prey, the speed and power that this bow possesses is more than enough for your needs. Finally, the adjustable weight is extremely useful as you can start off at 50 lbs until you get used to the weight before finally reaching 70 lbs!
---
When it comes to bows, Leader Accessories are one of the biggest names around and they are known for looking after their customers whilst providing them with a number of options. Not only do they have a compound bow with a draw weight of 35-50 lbs, they also have a heavier option for the more seasoned archer and this is what we will be reviewing today.
Performance:
This model differs to Leader Accessories' other model in a few key areas; firstly, the biggest difference of all can be found in the draw weight. With 50 to 70 pounds available for the user of this bow, it certainly packs a punch whilst offering extended range and around 310 feet per second in speed. Not only is this useful on the target range, it will also contribute towards hunting, especially with medium-sized prey. The lighter model can be used for medium-sized prey, but this one will certainly offer more success.
Additionally, the draw length can be adjusted from 26 to 30 inches. Although this is only an extra inch compared to the smaller model, in archery this can make all the difference as comfort plays a huge role. The let-off is increased by around five percentage points to 75-80% and the axle to axle is larger at 35 inches as opposed to 28 inches. Finally, 30 inches is the advised size of arrow for this bow with both carbon and aluminum working well.
Design:
This larger model offers one thing that the smaller model doesn't and that is a black version. With this product, you will have an option between autumn camouflage and black and this can actually be quite important. Another important note that many people have made after using this product is that the vibration is very minimal when compared to others.
With some bows, a vibration may not seem like much but it can lead to frustration and a little pain. With this model, you will have a smooth action from start to finish and your arrows will shoot cleanly.
It is also important to note that this compound bow is a little heavier than some other options on the market. If you are a beginner looking to get into archery, you might want to go for something lighter as you may not be able to practice for extended periods of time (especially with a 70 lbs draw weight). If you are more experienced, you may not find this to be a problem. Of course, the option to reduce the draw weight to 50 lbs will come in handy and can reduce the stress on your arms.
Price:
When it comes to pricing, Amazon seems to offer the best deal and it is also a safe option ordering with one of the most popular sites on the internet. As the bow is made abroad, it can be useful to have Amazon on your side when looking for replacement parts or if anything goes wrong. However, there are some other locations that stock this Leader Accessories bow.
Final Thoughts
Quiet and vibration free, durable, compact and lightweight, easy to use and highly dependable are some of the things you need to find in a hunting compound bow. Professional hunters say that a successful shot requires practice and a quiet compound bow.
Now that you have read hunting compound bow reviews, you can come up with a good comparison among the brands or models you have in mind. Before making a final purchase, make sure to choose the best hunting compound bow for the money.
Related Guides