Quick Comparison Table
How to Choose the Best Bow Hunting Tree Stand on the Market?
Tree stands have become popular for all forms of hunting, but they were initially designed for bow hunting due to the necessity for excellent visibility and proximity to animals.
There are many different kinds for sale, but all types help hunters to see better while reducing noise on the ground and the ability for animals to pick up human scent as well.
Whichever type of deer bow hunting tree stand or standard tree stand you choose, you are sure to find it's beneficial, but some might be more so than others.
Within this buying guide, we review the several different tree stand options to help you choose the best bow hunting tree stand for the money. It also helps to pay attention to the advantages and disadvantages in comparison to the cost to get the best deal.
Activity Type
Whether you're hunting as one person, or you're looking for a 2 person, 3 person, or 4 person tower or ladder tree stand, it's essential that you choose the right tree stand for your hunting activity. There are four types of tree stands – all suitable for different activity types.
Climbing stands – These consist of a footrest and seat, and the hunter attaches himself to the stand at the bottom of the tree, before using the stand to climb up the tree to an elevated and concealed position.
Fixed stands – Fixed stands, stand platforms, lock-on, and hang-on tree stands are also popular. They are easy to set up and require a ladder, steps or climbing sticks to secure the stand to the tree.If you're nailing steps to a tree for easy access, ensure you have permission to do so.
Ladder stands – Ladder stands are attached to trees with a platform at the top. They can accommodate between one and three people, and most are around 12 to 15 feet tall. They are also easy to add camo to for extra concealment.
Tower/tripod stands – While not attached to a tree, a tower or tripod stand is equally as popular as those listed above. They are particularly beneficial when there are no suitable, sturdy trees in the area, or when a hunter wishes to have multiple tree stands.
Safety
With the introduction of tree stands comes the added risk of danger and injury. While hunting on the ground is dangerous enough, it's more so now that the risk of falling is added to the mix.
You can slip and fall down the ladder, you can drop off the stand itself, or you can find yourself on the ground with broken bones as a result of a poorly constructed or damaged stand giving way.
Because hunting when using a tree stand is dangerous, even when it's a hang-on treestand or a lock-on treestand, we've outlined some basic safety tips below.
Much of these can also be found in your manufacturer's manual, depending on the brand or model you choose to purchase.
Ensure the stand is in good working order.
Check all welds and joins.
Ensure grip is available on each step.
Use a professional safety system or harness.
Raise and lower hunting weapons with ropes rather than carrying them up yourself.
Use weapons responsibly.
Never exceed the recommended weight capacity.
Features
Features vary for each type of tree stand, depending on the brand, model, and manufacturer. The beauty of choosing to buy online means you can browse several different tree stand options for professionals and amateurs, making your decision based on the features you can't live without.
Climbing stand features:
Camo for concealment.
Solid, durable frame.
Comfortable seat with backrest.
Climbing cables.
Four-point harness.
Safety straps.
Stirrups.
Backpack straps.
Stand rope.
Fixed stand features:
Camo for concealment.
Comfortable seat that can flip back.
Folds flat to make it easy to transport and store.
Lightweight.
Durable frame.
Ladder stand features:
Seat platform.
Foot platform.
Durable frame.
Pinned ladder sections.
Adjustable ladder support bar.
Tower/tripod stand features:
Steel construction.
Cushioned backrest.
Foldable legs.
Shooting rail.
Has either three or four legs.
Efficiency
The efficiency of your bow hunting tree stand comes down to what you're hunting and how you're choosing to hunt. A ladder tree stand is beneficial for those who go back to the same spot to hunt every time as it can be difficult to transport.
If you're a hunter on the move, such a stand will take up valuable hunting time with transport. A tower/tripod stand can often cause the same problem.
A fixed, lock-on, hold-on or climbing stand, however, enables you to change your hunting location with ease. Many fold down for easy transportation and are easy to use.
However, the climbing stand does require you to be physically fit, and often takes some time to set up if you choose to use a harness for safety.
Maintenance
Your tree stand is the only thing keeping you from falling 10-plus feet to the ground below. With this in mind, it's crucial always to be maintaining your tree stand. Whether it's a permanent structure that you've purchased or made or a portable option, it will still need regular upkeep.
We recommend reading your manufacturer's guide, but we've included tips below:
Check all welds and joins and repair/replace as necessary.
Be on the lookout for rust.
If your tree stand is enclosed, check for leaks.
Check for rips and tears in any material.
Replace/repair your harness if you notice any rips, cuts or tears.
Budget
While money can help determine which tree stand you'll buy for bow hunting, it's essential that it's the last thing that comes into consideration. Quality counts for a lot, as does convenience and being fit for purpose.
Once you've established the kind of tree stand that will suit you the best, you can then look at narrowing it down to one that costs less. We've provided some approximate costs for when you choose to buy tree stands on Amazon.com.
Ladder tree stand: $75 – $417.
Tripod tree stand: $160 – $420.
Hang-on/lock-on tree stand: $33 to $331.
Self-climbing tree stand: $98 – $186.
4 Types of Bow Hunting Tree Stand
Below we've covered the various advantages and disadvantages of owning the most popular tree stands. While all are beneficial in different bow hunting applications, it's up to you to decide which one is going to be more so.
Ladder Tree Stand
A ladder tree stand has a seat and a platform as well as a ladder to enable you to climb up onto the stand. They're stationary and can be suitable for one or two people.
Hang-On/Lock-On Tree Stand
Hang-on or lock-on stands connect to trees with cables at any height you like. Usually, ladders are secured to the tree to provide access to the stands.
Self-Climbing Tree Stand
Self-climbing tree stands are beneficial for hunters who prefer to hunt alone. You can travel with them on your back with ease, all the while being able to pull yourself up a tree without the need for a cumbersome ladder or permanent structure.
Tripod Tree Stand
If trees are not an option for securing your tree stand to, a tripod tree stand comes to the rescue. They can fit into any hunting environment, all the while offering the same benefits as a standard tree stand. The only differences are that they stand on three legs which fold in, and they look similar to a camera tripod.
5 Top Rated Ladder Tree Stand Reviews
1
Ameristep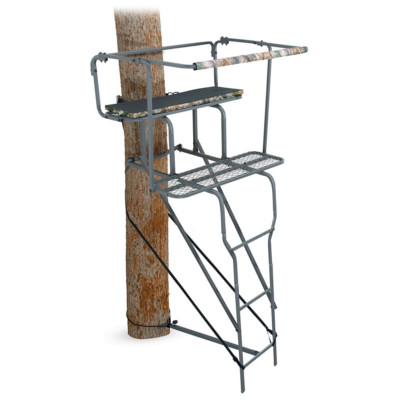 2
Guide Gear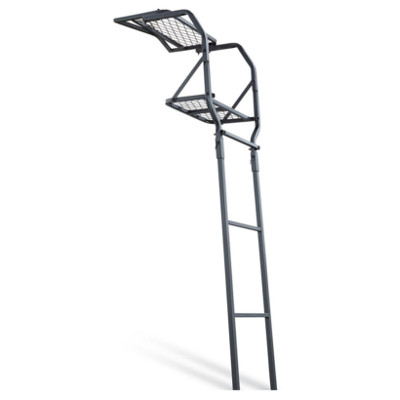 3
Muddy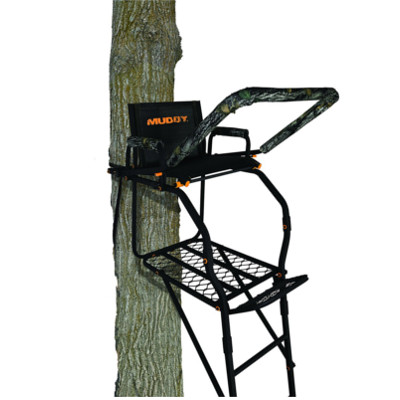 4
Sniper Deluxe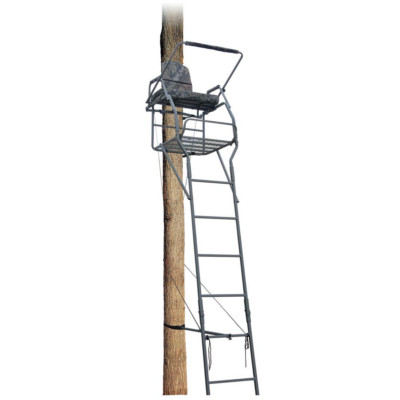 5
Guide Gear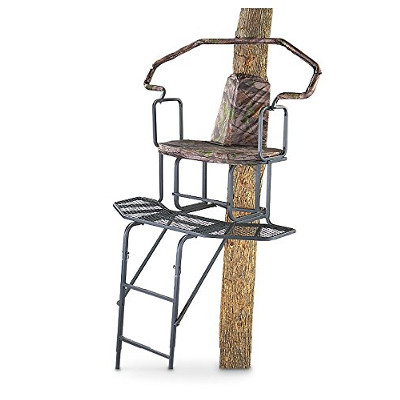 5 Top Rated Hang-On Tree Stand Reviews
1
Guide Gear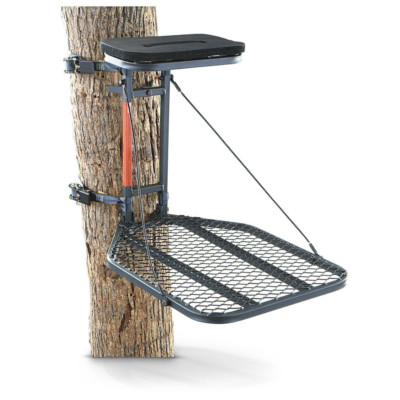 2
Lone Wolf Alpha 2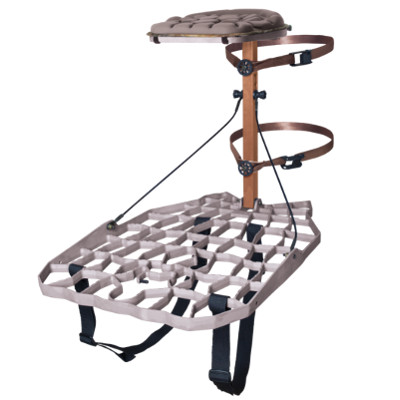 3
Millennium Treestands M150 Monster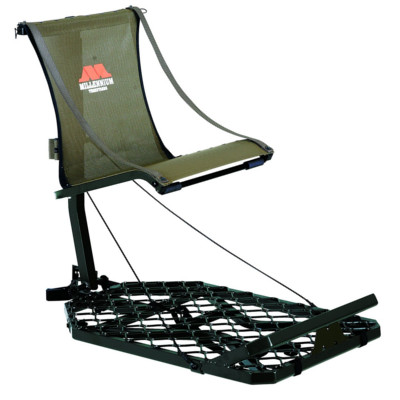 4
River's Edge Products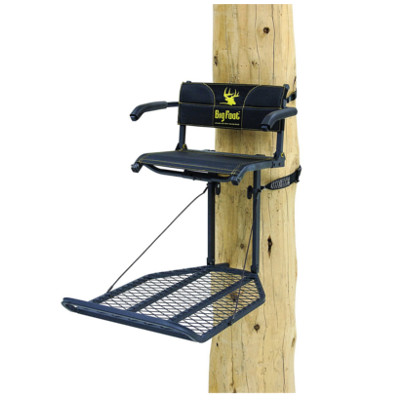 5
Hawk KICKBACK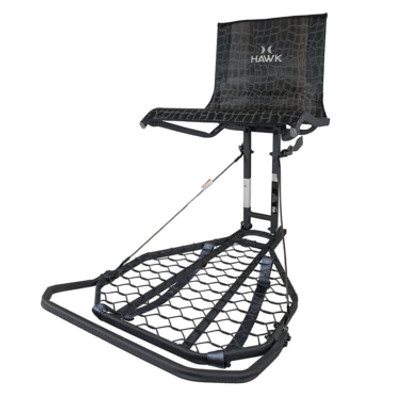 2 Top Rated Self-Climbing Tree Stand Reviews
1
Summit 81052
2
Summit Treestands Cobra SD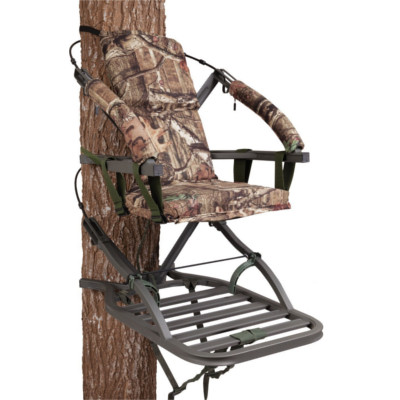 5 Top Rated Tripod Tree Stand Reviews
1
Ameristep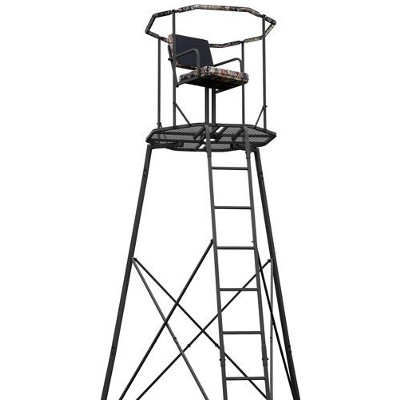 2
Millennium Treestands T100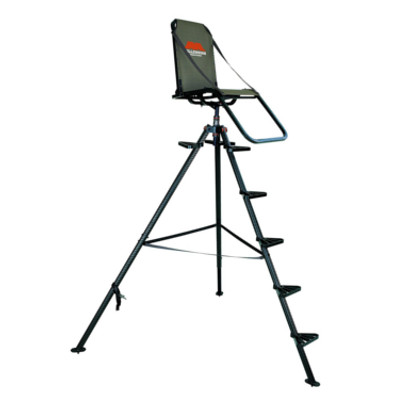 3
Guide Gear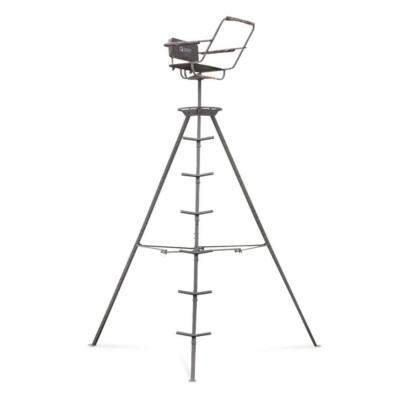 4
Sniper Sentinel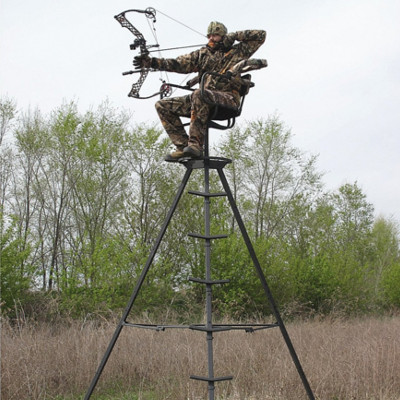 5
Sniper Treestands STTP70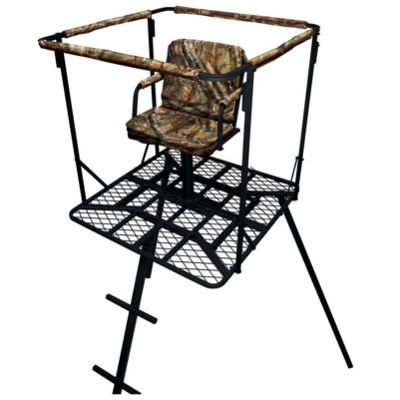 Where to Buy Bow Hunting Tree Stand?
Bow hunting tree stands can be purchased at any leading hunting and fishing outlet. However, at these locations, the selection is typically limited to a few brands. If you're looking to get the best deal, or you want to see what else is available, there's a fantastic selection online.
By visiting Amazon.com, there are options aplenty. You can compare features of each, find out what will suit you the best, then find the lowest price available. Buying online is also very convenient as once you've purchased it, it will be delivered directly to your door.
Related Guides