Quick Comparison Table
How to Choose the Best Bow Hunting Blind on the Market?
A hunting blind is a must-have for any avid hunter looking to increase their chances of bringing something home for the dinner table.
There are several different types of blinds to suit different hunting situations, including box blinds, tower blinds, elevated or enclosed blinds, and even blinds concealed with camo.
Deer hunting blinds are the most common in the United States, but there are specially designed blinds for bow hunting and turkeys as well.
Because there are so many different kinds on the market, it can be difficult to know how to find one that suits your requirements the best.
Therefore, within this buying guide, we've reviewed several different brands of hunting blind, all that are suitable for various applications.
Read through the pros and cons of each to establish whether any particular type is going to be the best bow hunting blind for the money.
Activity Type
Your activity type plays a huge role in the kind of bow hunting blind that's going to be appropriate for you. Are you deer hunting or duck hunting?
Do you need something you can move in a hurry or something that can be permanent? What's the weather like? Does it need to be waterproof? What are the rules and regulations of your state or location?
Before you go ahead and purchase a new hunting blind, think about your needs. Find out whether it needs to be durable for the weather, or whether you can get away with a temporary blind you remove after each use.
Is it a group activity? Will you need a 1-person blind or a 4-person blind? Think about your hunting activity and what your requirements will be.
Safety
When you're out in the wilderness – either alone or with friends – your safety is paramount. Not only do you have to ensure you're abiding by the law with gun safety, but you have to make sure your hunting blind – either temporary or permanent – is going to provide you with a safe environment.
It needs to be:
Stable if it's an elevated hunting blind.
Well put together – either by yourself or the manufacturer.
Made of quality material to withstand daily use.
Positioned in such a way that it's not hit by the elements head-on.
Big enough for whoever is in your hunting party. This may mean you have to shop around for a 2-person or 3-person hunting blind.
Hunting blinds provide you with concealment and cover during the hunting season, but they have their limits. Don't overcrowd them, ensure they're stable when elevated, and put them together as per the manufacturer's recommendations.
Features
There are several different hunting blinds on the market; therefore, their features vary dramatically. However, one thing's for sure, we've come a long way from cocking-cloths – a piece of canvas on a frame.
Ground blind: They're either plastic or are made from tent-like or canvas material. They come in various sizes, are often camo with windows and zips, and can either be a portable ground blind, a pop-up blind, or a permanent structure.
Box blind: Box blinds are just that – box-shaped blinds. They offer premium levels of concealment with thick, plastic walls, and have a window on each side for good vantage points. They can be used on both the ground or in an elevated position.
Tower blinds: Tower blinds are usually some of the most durable hunting blinds on the market. They come with a steel frame, are weather-resistant, offer a ladder for entry and exit, and provide a steady shot in any direction. Typically, the blind and the structure can be purchased separately.
Efficiency
The efficiency of a hunting blind comes down to the manufacturer, the model, brand, the location, weather conditions and your knowledge.
The manufacturer – along with the model and brand – is important because of the reputation. Is any particular manufacturer known for its quality hunting products? Is it made out of superior materials? Is a specific brand known to provide models that stand up to conditions better?
Talk to people and find out what they know about top-rated brands. A quality hunting blind will lead to better efficiency out in the field.
The location also matters regarding efficiency. Does the camouflage aspect match up to the location's environment? If it doesn't, you're going to stand out, rather than blend in. This reduces the chances of getting that kill.
Weather also plays a considerable part as if your blind can't stand up to extreme weather; your cover will be blown.
Finally, your knowledge affects the efficiency as well. You need to choose a blind that's suitable for your requirements, and for your hunting party.
A 1-person hunting blind isn't going to be ideal for a party of four. Make your decision wisely for the best hunting experience.
Maintenance
Maintenance for each hunting blind can vary. Plastic blinds are known to warp and fade in the sun, and specific components can perish.
Pop-up blinds, which are typically made of a tent-like material, can be prone to rips and tears. Ensure you carry around a patching kit to take care of these.
When you're erecting your hunting blind, and when you're taking it down, be on the lookout for any imperfections. Clean and dry it thoroughly, and ensure it's packed away in a cool, dry area until your next hunting excursion.
Budget
You can spend hundreds – or even thousands – of dollars on a quality bow hunting blind. It all depends on the level of comfort you wish to have.
Are you happy to sit in a small, portable blind? Or do you want to be elevated in a large, permanent and durable stand? The sky's the limit.
You can spend as little as $50 on a temporary shelter, or as much as $5,000 on something more permanent.
4 Types of Bow Hunting Blinds
When hunting season begins, and you're on the lookout for a new bowhunting blind, it's vital that you choose one that suits your particular needs.
Some are suitable for duck hunting, while others are designed for the complex needs of a deer hunter. You also need to take into consideration your location in comparison to the color scheme of the blind, as well.
There are several types for sale, and we endeavor to show you what these are below.
Ground Bow Hunting Blinds
Ground blinds, while not as beneficial as an elevated blind, are perfect for seasoned hunters looking to fill the freezer with nature's bounty.
If you set a ground bow hunting blind up in the right location, you're bound to find it's very useful for getting the kill.
Many hunters also just use them to keep warm as they near the end of the hunting season, or for masking scents to stop deer and other wildlife from knowing you're around.
They are easy to put up, take down, and don't cost nearly as much as a tower blind. If you need further convincing of the benefits before you go ahead and buy online, we've included helpful information below.
Box Bow Hunting Blinds
Box blinds are known to be far more durable than a standard ground blind and are a preferred option by many hunters.
They can be used on the ground, or they can be attached to a stand to become elevated. While they're not as affordable as a ground blind, they are known to provide any hunter with many years of shelter and concealment.
Tower Bow Hunting Blinds
Tower bow hunting blinds are hunting blinds that are put up on towers to be elevated off the ground.
They provide better views, enable you to see your targets better and make it less likely to be spotted by wildlife.
They are more expensive than ground options, purely because they come with a tower.
However, the hunting blind itself can act as both a ground or elevated hunted blind – depending on your preference.
5 Top Rated Ground Bow Hunting Blind Reviews
1
Ameristep 1RX2S010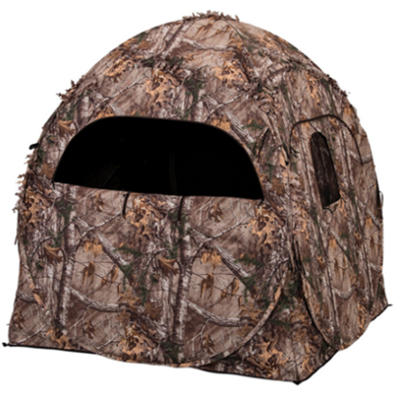 2
Ameristep Care Taker Hub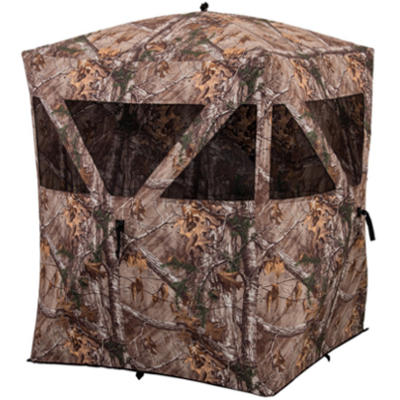 3
Barronett 350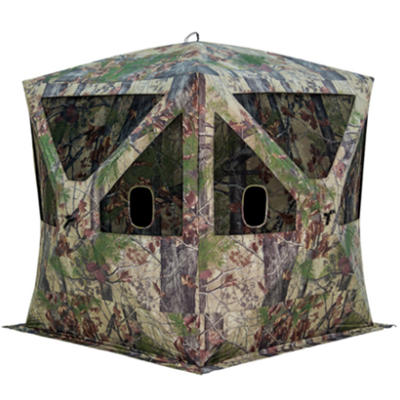 4
Primos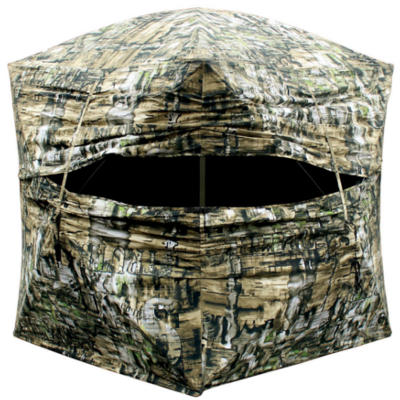 5
Ameristep Tent Chair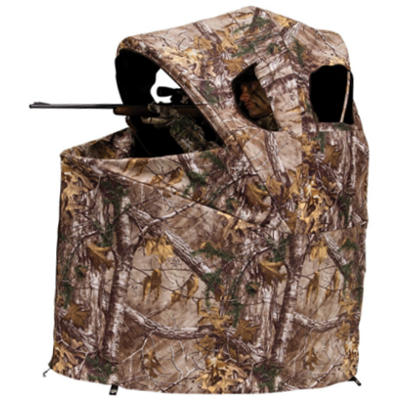 5 Top Rated Tower Bow Hunting Blind Reviews
1
Hughes 67005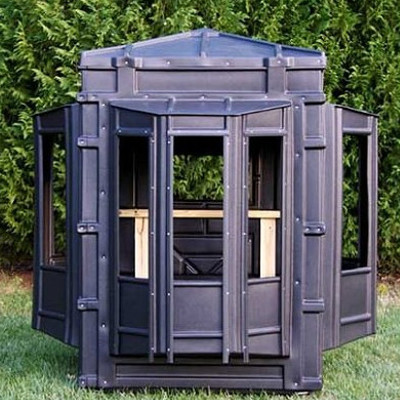 2
Hughes 67001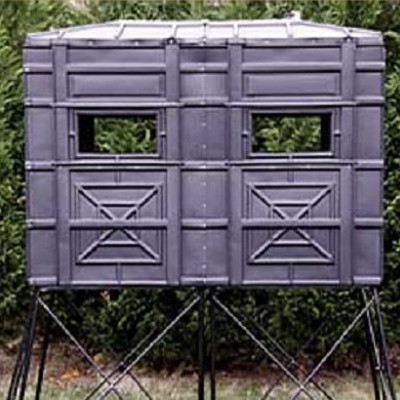 3
Hughes 67055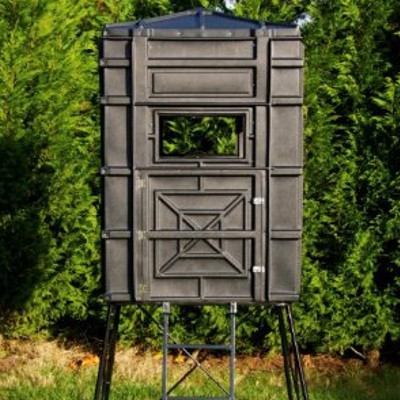 4
Landmark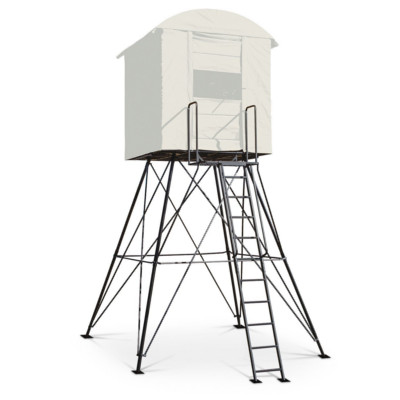 5
River's Edge Products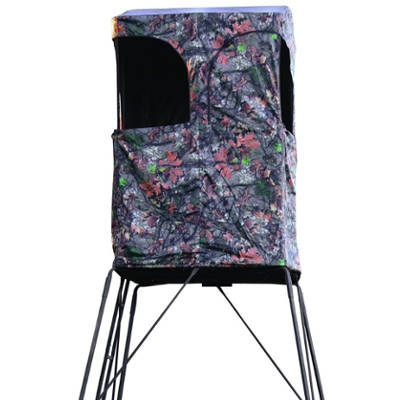 4 Top Rated Box Bow Hunting Blind Reviews
1
Terrain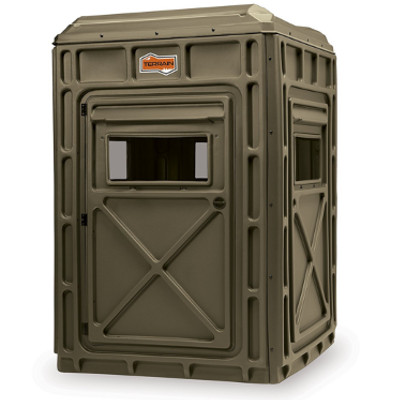 2
Booner
3
Tricc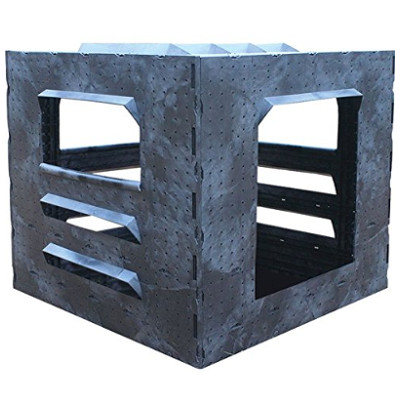 4
Snaplock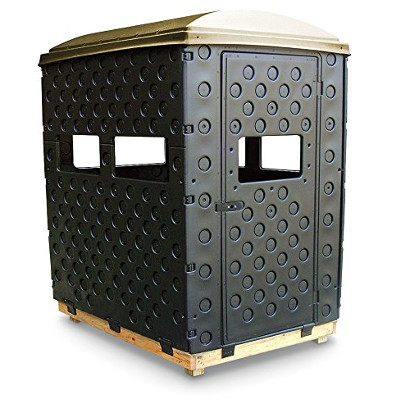 Where to Buy Bow Hunting Blinds?
If you're in a hurry to get the hunting season underway, and you don't want to travel to a store to purchase a new hunting blind, choosing to buy online is a good option for you.
Amazon.com, among other platforms, is ideal for hunters looking to have their blind delivered directly to their door at the click of a mouse.
Many are suitable for bowhunting, and you can browse through many options to ensure you find what you're looking for.
Related Guides