Are you a Bowfishing aficionado? Well, the first thing on your list of must-have items should be an excellent bowfishing bow package. Of course, a good bow not only offers unparalleled speed but also delivers unrivaled accuracy and precision.
And yes, given their increasingly high numbers, the competition on the market is slowly shaping into a battle of the titans with every brand striving to out-muscle its competition.
Quick Comparison Table
| | AMS | Fin-Finder | Darton | Cajun | PSE |
| --- | --- | --- | --- | --- | --- |
| | | | | | |
| Price | $ | $ | $ | $ | $ |
| Warranty | Not specified | Not specified | Not specified | Not specified | Not specified |
| Dimensions | 41 x 13 x 7 inches | 41.5 x 22.5 x 7 inches | 35 x 12 x 2.5 inches | 39 x 14 x 3.5 inches | 42 x 12 x 6 inches |
| Draw weight | 30 to 40 pounds | 25 to 40 pounds | 40 to 55 pounds | 50 pounds | 40 pounds |
| Amazon FREE Shipping | | | | | |
| | | | | | |
How to Choose The Best Bowfishing Bow Package on the Market?
This has given birth to a situation where even professionals are rendered incapable of making the right decision on which bowfishing bow set to pick.
To ensure that you only get the crème de la crème without having to spend a fortune, we conducted a thorough and extensive research on the market and came up with a detailed buying guide for the top rated products.
Before we delve into the nitty-gritty details on the products, let's take a look at some factors to consider before you purchase any of them.
The length of the bow
The length of your bowfishing bow has to be perfect. Any bow whose length isn't accurate becomes a recipe for disaster. If you want to bowfish like a pro, then you have to take note of the length of the bow.
Longer bows are known to deliver better results than their shorter counterparts. Whether you're an amateur or a professional, for you to get impressive results, the length has to be accurate.
The hand you use
Which hand are you comfortable with? This is yet another important factor that needs to be considered before anyone picks a given Bowfishing bow set.
You have to check in order to ensure that the bow is convenient for you to work with. Whether you're left or right-handed, there's always something for you. Simply ensure that it's designed to work with your hand of choice.
Weight
Unless you want to be calling your friends to come help you lift your bow while fishing (pun intended), you have to ensure that its weight is convenient for you.
Too heavy bowfishing bows could become quite hectic for you to work with making the entire bowfishing escapade unbearable. We wouldn't suggest that you pick the bowfishing bow sets which come with the lightest bows as well.
Instead, pick the one which comes with a bow whose weight works for you.
Speed
Speed determines whether you bowfishing spree turns into a show-off or a so-so experience. It's for this reason that you have to ensure that your bow delivers reliable speed.
In fact, before looking at all the other factors, you need to check the speed. Of course, it's advisable to note that bows with high speed offer less drop.
Cost
Although not the most important aspect, it's crucial that you also consider the price of any bow set before picking it. The price is a rough indicator of the quality at times.
This doesn't mean that you should go for the cheapest or the most expensive. Just pick a product whose price is a reflection of its quality.
Top 5 Bowfishing Bow Kits Reviews
Armed with the factors to consider before purchasing any bowfishing bow set, let's now explore the best ones on the market.
1
AMS B205L-KOI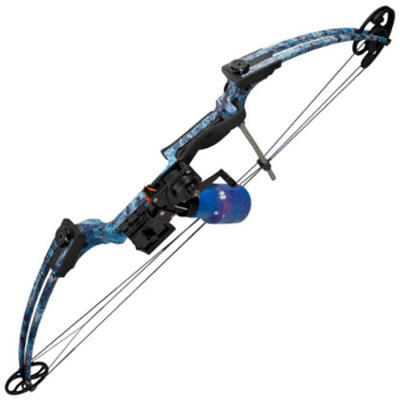 Pros
It features an awesome weight.
It boasts an incredible length.
Solo-Cam makes its performance better.
The design makes it quite durable.
Cons
Designed for left-handed only, it leaves the right-handed bowfishers out of the experience.
It isn't the cheapest on the market although the price is convenient for its quality.
AMS wave rest.
A nock point.
AMS retriever Pro.
Q
Is this item durable?
A
Absolutely! It gives excellent performance for years when well taken care of.
---
Q
Is it easy to use?
A
Well, you don't to be a rocket-scientist to use this AMS bowfishing bow, that's how easy to use it is.
---
Q
What are the dimensions?
A
Its dimensions are 41 x 13 x 7 inches.
Boasting a Solo-Cam which delivers unmatched maneuverability and top-tier precision, AMS left-hand bow is arguably the best one on the market. And yes, its length is a thumbs-up making it pretty awesome.
If you're looking for a product whose quality is unrivaled and performance is second to none, then you should give it a shot! Going for less than $400, it's an awesome bowfishing kit for the money.
Has convenient weight:Boasting 3.4 pounds, the bowfishing bow gives you an opportunity to experience an action-packed bowfishing spree for longer durations. Taking bowfishing a notch higher, it ensures that you shoot like a pro. The weight is quite convenient for any bowfishing enthusiast and spices up the entire experience.
Designed for the left-handed:Like earlier pointed out, any given bowfishing bow ought to be designed for a particular hand. Conventionally, we have more right-hand bows especially due to the fact that most people are right-handed. However, AMS has decided to go a mile a>head and come up with this incredibly awesome left-hand product which boasts a superior performance.
Impressive length:Featuring a length of 15-30 inches, AMS bowfishing bow gives better accuracy and maneuverability with minimum finger pinch. Its impressive length makes it awesome for experts and amateurs alike.
Comes with Solo-Cam:This is a custom engineered feature which yields unparalleled shooting accuracy by facilitating maximum arrow speed with least draw length. This spices up the entire bowfishing experience making it unforgettable.
In a jiffy, this is an awesome bow boasting unrivaled performance, unmatched precision, and unparalleled maneuverability. Ideal for any left-handed bowfisher, you will definitely love it.
2
Fin-Finder Poseidon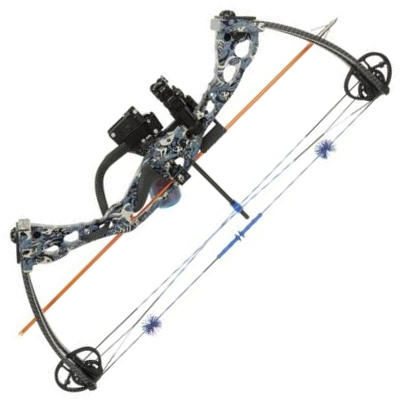 Pros
It features a unique design.
Its pre-stretched cables increase its performance.
It's made from corrosion resistant stainless steel material.
Its weight is quite impressive.
Cons
International shipping isn't available.
Light stryke laser sight.
Hydro-glide arrow rest.
Raider pro fitted with riptide point.
String silencer.
Finger protector.
Q
What are the dimensions?
A
The dimensions are 42 x 23 x 7 inches.
---
Q
Is it durable?
A
Its durability is simply unrivaled. Made from top quality stainless steel hardware, it's quite durable.
---
Q
Is it easy to use?
A
Absolutely! It's quite easy to use it.
This is yet another incredible bow whose performance is top-tier. Carefully designed into a top-precision masterpiece, Fin-Finder is quite impressive. In fact, its unique design and performance have seen it make entry into the latest reviews.
Comes with a parallel split technology:With a parallel split technology, it takes you bowfishing experience to a whole new level letting you bowfish with maximum accuracy.
Features deep-groove cams:The deep groove cams give utmost precision making the entire process better than ever before. If you want to bowfish like an expert, you should try it out.
Made from top quality material:Its corrosion resistant stainless steel construction makes it quite durable. This ensures that you use it for a long time thus cutting on the cost of periodic replacement.
Features an oscillation-reducing design:Its oscillation reduction design ensures that you get maximum penetration thus giving superior bowfishing results.
Comes with pre-stretched cables and strings:Its pre-stretched strings and cables add to its excellent features making it quite awesome. The strings give maximum speed with minimal finger pinch.
In conclusion, this is an awesome right-hand bowfishing bow whose durability and performance are top-level. If you're looking for an excellent product, you can try it out.
3
Darton Aquaforce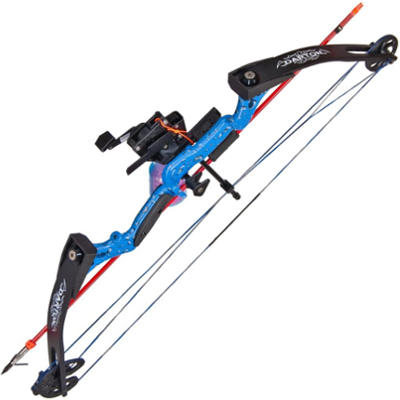 Pros
The weight lets you shoot for longer.
Its length is convenient for amateurs and professionals.
Made from top quality material.
Aquaforce technology gives unrivaled penetration.
Cons
Its weight is slightly higher than that of its competitors.
AMS wave rest.
AMS safety slide.
AMS arrows.
Q
Is it good for beginners?
A
This product can be used by beginners and professionals comfortably.
---
Q
What are the dimensions?
A
The dimensions of this bowfishing bow are 35 x 12 x 2.5 inches.
---
Q
Can it be shipped internationally?
A
International shipping is currently unavailable.
Darton right-hand bowfishing bow is yet another wonderful product up for sale. A true scale buster, its aquaforce technology confirms that it isn't one of those half-baked products. And yes, with an impressive weight and awesome length, you'll love it.
Comes in a convenient weight:
Its weight of 2.9 lbs makes it quite convenient for any bowfishing enthusiast. Of course, this weight makes it quite portable.
The length is awesome:
Its length is convenient for bowfishing too. It lets you shoot with maximum accuracy and least hassle. This bow boasts incredible penetrating power thanks to its aquaforce technology. If you're looking for excellent maneuverability, give it a shot.
It's quite durable:
Of course, this is one of the most durable products on the market. Its top quality material ensures that you get long-term service. If you're a bowfishing enthusiast looking for an awesome product, you can try this one out. Given its durability and performance, you'll love it.
4
Cajun Sucker Punch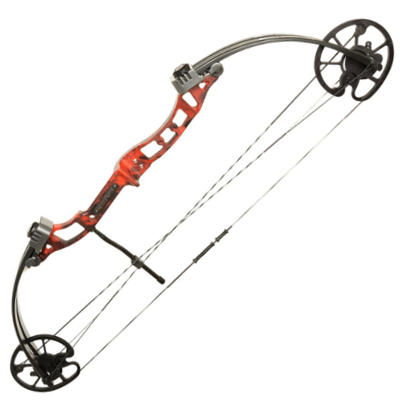 Pros
Its durable construction gives long-time service.
It offers top speed shooting.
It offers quick and easy pulling.
It's quite affordable.
Cons
The strings might break at times.
Arrow rest from Fishing Biscuit.
Cajun hybrid fishing reel.
Cajun finger pads.
White fiberglass arrows fitted with Piranha points.
Q
Can I use it while I am right-handed?
A
No, it's designed for left-handed individuals.
---
Q
Does it stain easily?
A
Nope, it doesn't rust easily thanks to its superior construction.
---
Q
Does it come with 2 cams?
A
Yes, it comes with two cams for maximum performance.
Coming with an arrow rest from Fishing Biscuit and a Cajun hybrid fishing reel, Cajun is another great product available on the market. Constantly inching closer to the top positions, in comparison to several other brands, it stands out.
Easy pull strings:
The strings are easy to pull thus yielding incredible arrow speed with least pulling force. This ensures that you enjoy every moment you use it.
Quite durable:
It's also made from a top-quality material which is designed for maximum durability. This ensures that you get long-term service. Whether you are an amateur or an expert, you will love this bow's convenient weight. The weight ensures that you don't get home too tired after bowfishing.
The speed is top-tier. This bowfishing bow is designed to give nothing short of impressive speed which ensures that you have awesome bowfishing experience. In a nutshell, this is a product worth your cash. In fact, it's one of the best products within its price bracket.
5
PSE Discovery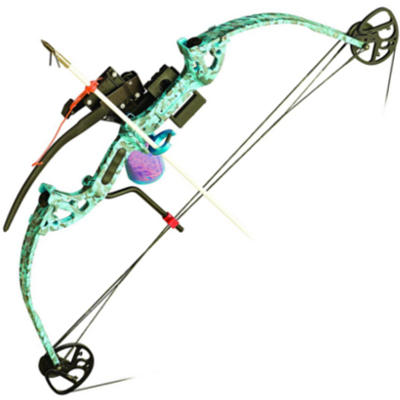 Pros
Its ergonomic design makes it easy to use.
The weight makes it quite impressive.
he draw length delivers maximum penetration.
Cons
It exhibits numerous issues when one misfires.
Muzzy bowfishing kit
Finger pads
Arrows
Fishing reels
Q
What is its draw weight?
A
It boasts a draw weight of 40 lbs.
---
Q
Is it easy to use?
A
Yes, it's quite easy to use.
---
Q
Does it rust easily?
A
Nope! It's well designed to resist rusting.
This bow from Precision Shooting Equipment wraps up our review of the best bowfishing sets on the market. Boasting several adorable features like an incredible axle to axle length and an impressive weight, you can never go wrong with it.
Awesome axle to axle length:
With its impressive axle to axle length, this bowfishing bow ensures that you have an easy time doing what you know best.
Convenient weight:
The weight not only makes it portable but also makes it quite convenient to work with. Of course, none of us wants to carry heavy things while having fun.
Boasts awesome draw length:
Its draw length makes it convenient to work with as well. Delivering top speed with least pull, you'll love this kit. Going for $ 314.97, this is one of the cheapest products on the market. In fact, it's among the best bowfishing bows for the money!
Final Thoughts
All said and done, the next time you want to have an awesome bowfishing experience, perhaps you should try out the bowfishing bow sets listed above. Given the quality of their bows, arrows, strings and other accessories, you'll definitely love them.
Related Guides